I found a new love and religion in the Bavarian Alps. I loved to ski and I worshipped the mountains, so majestic, beautiful, and if you were not careful, deadly. Being higher on a physical plane did not necessarily mean being closer to heaven, it just meant getting higher. I found a euphoria in the mountains which took me higher than any alcohol, earth related, or medicinal aids I ever encountered. The best high on earth is a "natural high." It's true, and it is there, in the mountains, where I feel as if I am in heaven.
Berchtesgaden am Oberamergau, the gates to the G.I. skiier's heaven.
I learned to ski here in 1965-66. Being from Louisville, Kentucky, the closest
place to ski from there during the 1960's was "nowhere." For those of you who
skiied here, I am sure you remember the crazy ass bus drivers who drove
these mountain roads as if they were on the Autobahn. I just closed my eyes
and did Cognac shots during the ride.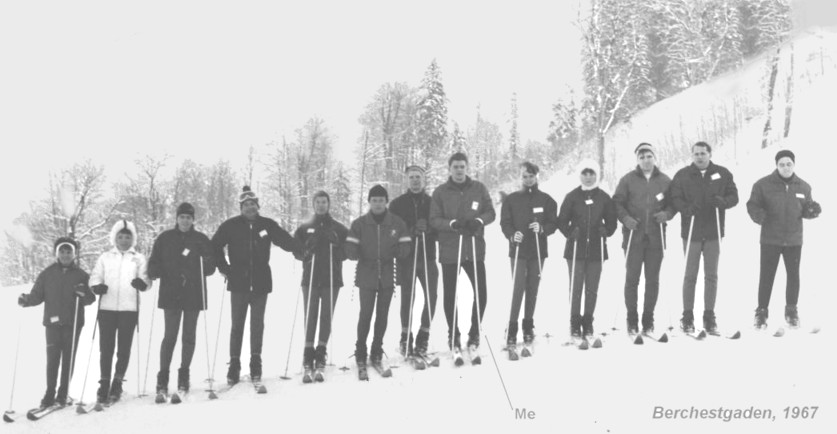 The only person I can identify in this picture is Chuck Richey, second from right. The ski bunnies on the left end were married, dammit. Our ski instructor, Traudl Greiger, took the picture. I never skiied at Garmisch, always opting to ski with Traudl at Berchtesgaden. She was in training at the time for the 1968 Winter Olympics.

Think Snow! Ski!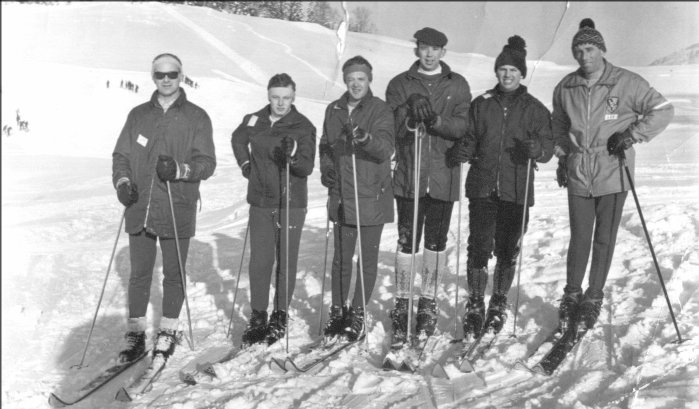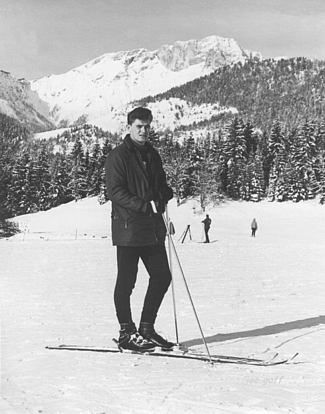 Of course I had to get my tall, skinny butt in the above photo! I have this photo framed and matted, and it is one of my favorite memories of the Alps, next to Traudl, the good beer, great company, snow, and parties!
Damn you George Craig!
Lenny Russell, traffic analyst in Blue, sent me
the above photo of himself and others on the
Zugspitze in B'gaden, 1966-67. His memory is
about as good as mine. He could only remember
one person's name in this photo, Leo, the ski
instructor next to him on the right side.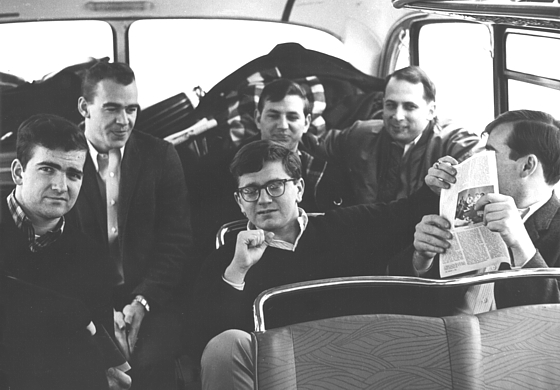 Lenny, center in the back row, organized and headed up a lot of ski trips to Berchtesgaden and Garmisch. I believe this was winter of 67-68, one of my last trips. The, (ahem), advanced skiiers usually hung with each other, and on the bus here are: Front row L-R: Davy (Mr. Cool) Watson; Clarence (Pinky) Pinkerton; Mr. ?? hidden behind newspaper. Back row L-R: George (one-punch) Craig; Lenny (Mr. Ski) Russell, and Chuck (I don't give a crap) Richey. The reason I damned Craig before was on this trip I passed out one night from too much partying, and next morning I saw Craig walk out of Traudl's room with a big smile on his face. He stayed an extra three days after we all left. She was a great girl and worth every minute of time spent with her. I heard she made the Olympic team in '68. Ski on Traudl!

_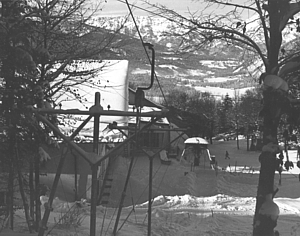 If you've ever skiied you have taken a T-bar lift.
If you haven't taken a T-bar lift you haven't skiied.
They are not crotch friendly, especially when you
have to duck trees on the way up. This one was a
nightmare I still dream about!



_
Also, if you have skiied you have fallen. If you have not fallen while skiing, you haven't skiied. Traudl, my
first ski instructor I was in love with, (sort of), told us immediately after putting on our skis, "If you ski,
you fall. You always fall. If you always ski, you always fall." She was ever so right. Good old What's His
Name was victim to Traudl's subliminal order many times. He's also in the bottom photo in our ski troup,
next to my Bavarian squeeze, Traudl. Or, she could squeeze me, made no difference!







And speaking of brew! This was the hillside and lodge favorite, or cheapest,
didn't make any difference. I got treated to as many of these, stuck to a filled
bottle of course, as I could drink after breaking a ski while skiing under
the lights at Berchtesgaden one night. Playing follow the leader, I was the
leader who went off a ski jump, fell on my ass, broke a ski, and bummed up
my ankle. Nobody else follwed me off the jump. Oh well, free beer for the night!






_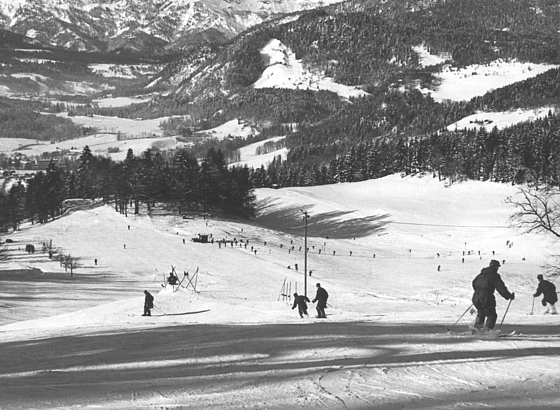 This is the only photograph I have from up on the Obersalzburg when I very carefully took one of my
cameras with me and skiied down with it. My cameras were my most valuable material possessions
at the time, and I wasn't about to screw them up by dropping, or falling on, them. There was no way
I would take my camera with me on the Zugspitze. I saw too many bones hanging from trees on that
run! The five guys in uniform in this photo were Special Forces grunts who were given three days to
learn to ski before being dropped from a helpcopter on top of a rugged range of mountains and had
to ski to safety. Good for you boys, not the kind of training for me, thank you!
Another ski group photo courtesy Lenny Russell. Old Lenny boy was so excited after digging up this photo which contains his ski instructor, Heidi, the gorgeous blonde in the middle, that he totally forgot to give me the names of everyone. If you're pictured here by any chance, there you are! I don't blame you Len, she was exciting to look at. But, on the other hand now, Traudl......

.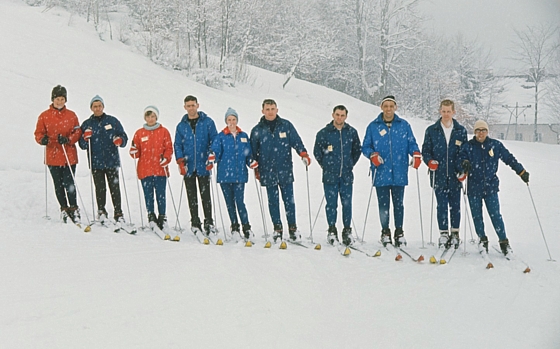 Okay, enough talk about Traudl, my ski instructor, here she is, first one on the left in this group photo. So she's covered up in ski clothes and hat, and its snowing over her face a little, you must be close to appreciate, right Craig, you s.o.b.! Just kidding "One Punch," really, just kidding. Stay where you are. Good buds, right? I bummed up my ankle the night before this photo and guess who gave me some great TLC? (No, not George... Traudl!)


.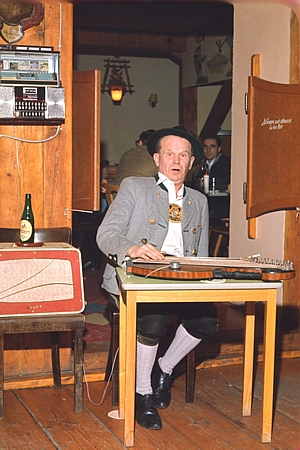 And let us not forget Hans, the eccentric, good natured, beer guzzling, zany zither player. Hans was at the lodge almost every night, and as long as you kept buying beer for him he would sit there and play his ancient zither, at which he was very accomplished. His costume was not for show, that was his daily attire.


_











Off the slopes and on to the next page. During my three years in Berlin I made six trips to Bavaria, most for skiing purposes. After leaving Germany I didn't ski again for almost seventeen years. What an idiot! When my third fiance, a yankee, talked me into skiing again around 1985 I fell in love with it all over. The equipment was better, the resorts out west were prima, and so was the cost of the sport. Those ski trips with the military cost about $55 for ten days, which included equipment, lift tickets, continental breakfast, lunch, and transportation. The last time I skiied the Rockies a one-day lift ticket was $58.00! Who says the good old days weren't golden?